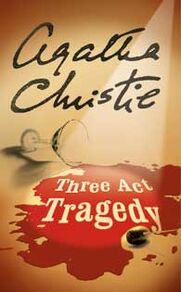 When a clergyman dies at a dinner party thrown by stage actor Sir Charles Cartwright, it is thought by nearly everyone (Hercule Poirot included) to be an accidental death. Shortly afterwards, however, a second death in suspiciously similar circumstances and with many of the same people present puts both Poirot and a team of sleuths on the trail of a poisoner whose motive is not clear.
The solution to this mystery is one of Christie's classic pieces of misdirection and is a plot device that has been widely imitated. Poirot reveals that the first murder - in which the murderer could not have predicted who would get the poisoned glass and had no motive to kill the eventual victim - had only been a "dress rehearsal" for the second murder.
During a dinner party given by Sir Charles Cartwright the guests are appalled at the death of the Reverend Babbington who choked on his cocktail. When Sir Bartholomew Strange, who was also at the dinner party, dies of nicotine poisoning some months later Satterthwaite, Poirot , Sir Charles and Egg Lytton Gore join forces to track down a devious murderer.
Is Satterthwaite as effective here without Harley Quin's gentle nudging? Should Egg have been put in further stories? How does she compare to, say, Tuppence, Victoria Jones and Anne Beddingfeld?